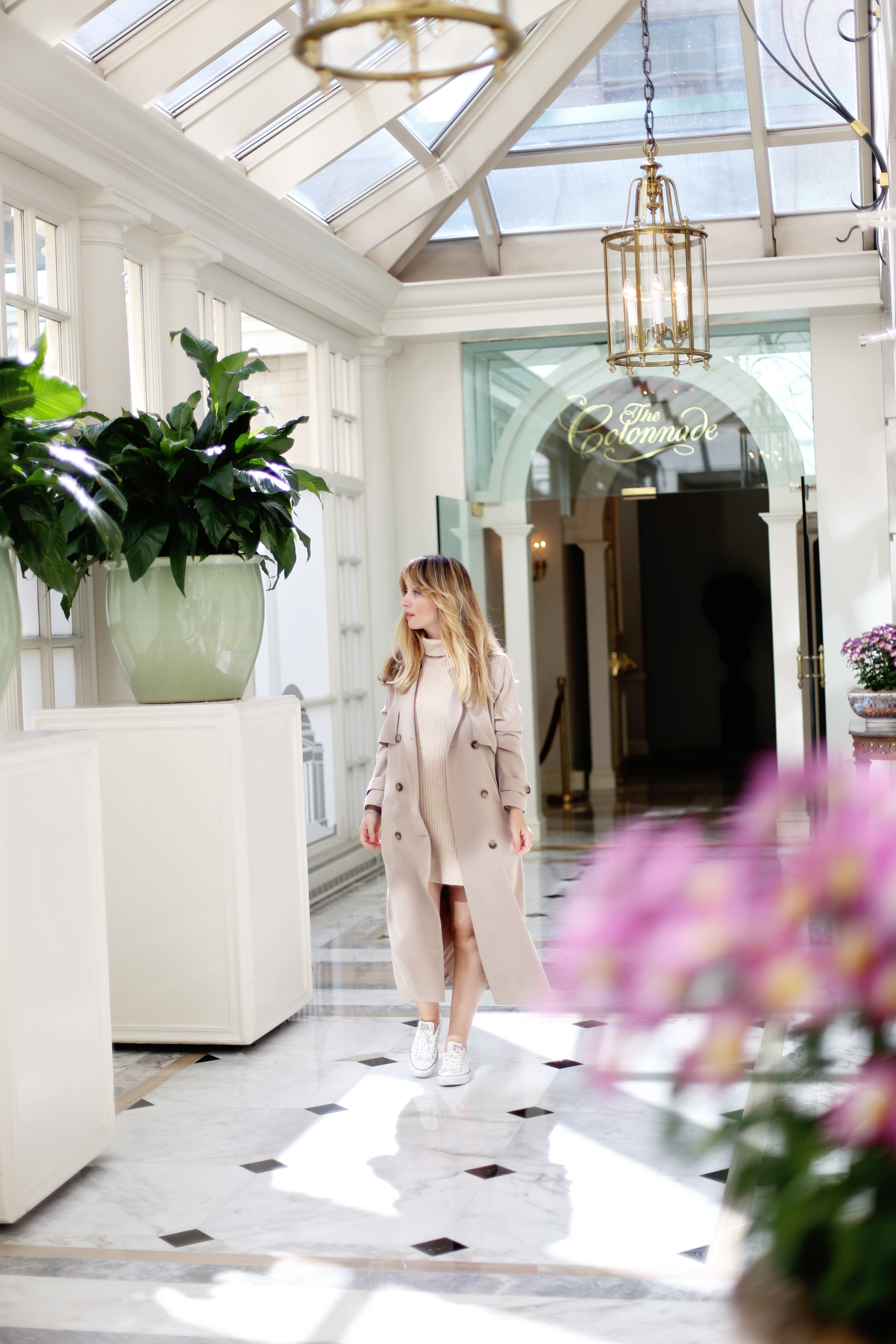 Photography by Dominique Fierro, location The Fairmont Hotel DC.
Wearing Ganni Trench Coat on sale on Lynn Louisa, and Revolve, Ganni Tunic on sale on Revolve, Converse white shoes. 
As a little girl I remember my mother had this beautiful long nude trench coat by MaxMara, she wore a nude tone lipstick, and her hair was a warm almost honey color. That was my favorite look of hers, I dreamed of one day wearing that coat, and getting hightlights (that dream came true obviously hehe), and she still has that coat at home I just need to get it fitted on my body! But meanwhile here I am probably around the age she was, styling this beautiful Ganni trench coat with a Ganni tunic, from my favorite Georgetown boutique, Lynn Louisa. So as you can imagine when I first went to Lynn Louisa and saw this trench I fell head over heels, but not only with the trench with the store as a whole. I love all the brands they carry and the pieces they pick, it really is like my dream closet. Gabby (the owner) is so passionate about the brands she brings, she flies all the way to Denmark and LA amongst other places to hand pick all of her pieces, and it truly shows when you walk in there. Therefore I decided to partner with Gabby and show you a few of my favorite looks from her store, and this is the first one so make sure you stay tuned for more looks! Definitely make sure to visit Lynn Louisa if you are in DC, and right now they have up to 70% off! Another bonus reason to visit the shop, is that my amazingly talented, fun and funny (sometimes weird hehe) friend and photographer of this look and many more, Dominique Fierro is the residente artist of the boutique, and you can check out her art and buy it right there, I think we have covered enough reasons to visit this new Georgetown boutique.  I hope you love this look as much as I do, and hopefully it will five you some Fall inspiration.